Instructions for establishing your email account on various devices like your computer, phone and others is different for each device and email provider (Google, Yahoo, Outlook, iCloud, etc.).
At Ritter, we provide technical assistance only for the products and services we offer.
If you would like to set up your Ritter email address you can use the below details which are needed to fill in the blanks throughout the process or you can call our 24/7 local technical support team at 888.659.6009. We are not able to walk you through setting up your email on each device but we can offer a solution to help you!
Meet Tech Home! Tech Home is an extension of Ritter support. It includes many features including more robust 24/7 technical support for things like setting up your email account. To learn more about this additional technical support coverage you can buy visit the Tech Home plans here.
DETAILS FOR SETTING UP A RITTER EMAIL DOMAIN:
At Ritter, we offer three types of Ritter email domains:
To begin, always choose the "other" option when setting up your Ritter email address.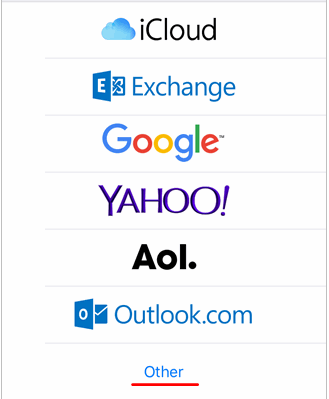 SETTING UP A RITTER EMAIL ON ONE DEVICE:
@rittermail.com
Incoming Server: pop.rittermail.com
Incoming Port: 995
SSL: Enabled
Username: Your full email address (for example: Jane@rittermail.com)
Outgoing Server: smtp.rittermail.com
Outgoing Port: 465
SSL: Enabled
Username: Your full email address (for example: Jane@rittermail.com
@eritter.net
Incoming Server: pop.eritter.net
Incoming Port: 995
SSL: Enabled
Username: Your full email address (for example: Jane@eritter.net)
Outgoing Server: smtp.eritter.net
Outgoing Port: 465
SSL: Enabled
Username: Your full email address (for example: Jane@eritter.net)
Username/Password Authentication Required
@ritternet.com
pop.ritternet.com
Incoming Port: 995
SSL: Enabled
Username: Your full email address (for example: Jane@ritternet.com)
Outgoing Server: smtp.ritternet.com
Outgoing Port: 465
SSL: Enabled
Username: Your full email address (for example: Jane@ritternet.com)
Username/Password Authentication Required
SETTING UP A RITTER EMAIL ON MULTIPLE DEVICES:
@rittermail.com
Incoming Server: pop.rittermail.com
Incoming Port: 993
SSL: Enabled
Username: Your full email address (for example: Jane@rittermail.com)
Outgoing Server: smtp.rittermail.com
Outgoing Port: 465
SSL: Enabled
Username: Your full email address (for example: Jane@rittermail.com)
Username/Password Authentication Required
@eritter.net
Incoming Server: pop.eritter.net
Incoming Port: 993
SSL: Enabled
Username: Your full email address (for example: Jane@eritter.net)
Outgoing Server: smtp.eritter.net
Outgoing Port: 465
SSL: Enabled
Username: Your full email address (for example: Jane@eritter.net)
Username/Password Authentication Required
@ritternet.com
Incoming Server: pop.ritternet.com
Incoming Port: 993
SSL: Enabled
Username: Your full email address (for example: Jane@ritternet.com)
Outgoing Server: smtp.ritternet.com
Outgoing Port: 465
SSL: Enabled
Username: Your full email address (for example: Jane@ritternet.com)
Username/Password Authentication Required