We heard you! We are launching a major $12 million upgrade that employs the latest technology and the most modern equipment installation to deliver a new network that is truly Built for Beyond.
We're building our next-generation internet infrastructure to perform beyond expectations, your imagination, today's needs—beyond anything else available! When complete, it will allow speeds up to 1 Gigabit* without data limits.

More exciting changes are on the way, and you'll love what's next!
*Wired download speeds up to 940 Mbps.

Temporary interruptions for all services are unavoidable as we install next-generation equipment in our network, which may include intermittent interruptions or service impairments at your home or business. Watch for our Ritter trucks and work crews in your area soon, as we complete this upgrade.
We're doing our best to give customers as much notice as possible in their local neighborhoods.
AS SOON AS YOUR AREA IS SCHEDULED FOR UPGRADE WORK, WE'LL:
1. Send you an email notification: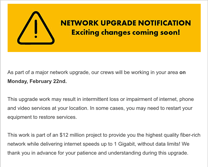 2. Post an online browser notification: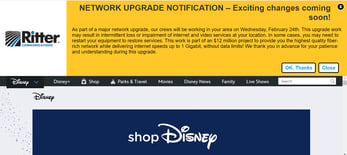 3. Leave you a recorded message: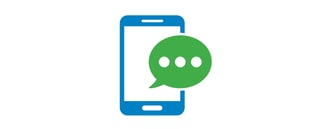 If you want to be first on the list of customers to know when we launch 1 Gigabit* internet in your area or if you have any questions about this upgrade, fill out the form below and we'll be in touch!