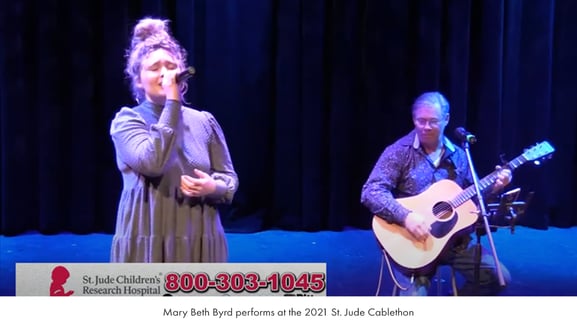 JONESBORO, Ark. – (March 2, 2022) - We are pleased to announce we will sponsor the annual Radio/Cablethon live from Blytheville, AR on Saturday, March 5th. In its 42nd year, this historically successful event raises money for St. Jude Children's Research Hospital, one of the world's premier centers for the research and treatment of childhood cancer and other catastrophic diseases.
We are thrilled to be celebrating our 15th year of involvement with the event. With over $3.5 million in donations raised at the Cablethon over the past 14 years, we anticipate another successful year of raising funds for St. Jude. We will broadcast Saturday's Cablethon live from 10 a.m. to 2 p.m. on our local access channel, Tubetown, which is channel 21 in Northeast Arkansas and Southeast Missouri and channel 11 in West Tennessee. The Tubetown production of the Cablethon will also be streamed on YouTube Live, which allows viewers around the world to watch by visiting www.YouTube.com/Tubetownonline. Donations may be pledged during the day of the event by calling the St. Jude Donation number, 800-303-1045.
ESA Sorority, a women's civic club established in Northeast Arkansas who has taken ownership of the event for many decades, fundraises year-round to ensure the success of the Radio/Cablethon. It is a joy to work alongside the ladies of ESA to produce this community-focused event. KHLS Thunder Country 96.3 FM, a Blytheville-based Sudbury Broadcasting radio station, leads the Radiothon. The programming focuses on St. Jude as the station promotes the weekend's events and solicits pledges from listeners. KHLS will also air the audio portion of Tubetown's Cablethon production. St. Jude well known for its dedication to finding a cure and never sending patients a bill for treatment, travel, housing or food. For this reason, the success of the Cablethon directly impacts terminally ill patients being treated at St. Jude.
"We are grateful to participate in the Cablethon tradition for yet another year," said Ritter Communications Vice President of Marketing, Susan Christian. "We are delighted each year at the number of Ritter Communications employees who donate their time and raise money to support this important event. This is always a fantastic way for us to demonstrate our 'Right by You' pledge and stand with the communities we serve." Marcus Carlton, TubeTown's Local Content Manager, says "We look forward to this event every year. Our team is consistently amazed at how the community comes out to support the children of St. Jude!"
###
About Ritter Communications:
Ritter Communications is the largest privately held telecommunications service provider in the Mid-South, offering world-class broadband fiber, telecom, video, cloud and data services. The company has grown rapidly over the years, investing millions recently in technology infrastructure and is now serving over 106 communities with more than 45,000 business, residential and wholesale customers in Arkansas, Texas, Missouri and Tennessee. Headquartered in Jonesboro, Arkansas, Ritter Communications invests heavily in the communities it serves by deploying proven, best-in-class infrastructure and technology, while coupling it with a world-class customer-focused experience. For more information visit, RitterBusiness.com or RightFiber.com.
About Tubetown:
Tubetown, a community partnership by Ritter Communications, airs local, live and pre-recorded high school sports, as well as local events, parades, charities and pageants. Tubetown was established as Ritter's local content production arm in 2008 and reaches thousands of viewers via Facebook Live and Ritter TV customers in Arkansas, Tennessee and Missouri. Tubetown airs on channel 11 in West Tennessee and 21 northeast Arkansas/Missouri. Visit Tubetownonline.com on the web and receive programming updates via our Twitter account, @Tubetown.
Media Mentions:
NEA Town Courier - https://www.neatowncourier.com/story/2870319.html
Poinsett County Democrat Tribune - https://www.democrattribune.com/