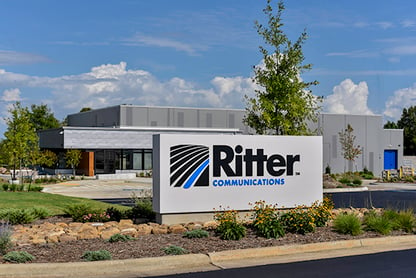 JONESBORO, Ark. – (November 30, 2020) – Ritter Communications, an Arkansas-based regional telecommunications provider, announced the opening of a new $8 million multi-user data and cloud storage facility in Northeast Arkansas, drawing the praise of Gov. Asa Hutchinson. The Ritter Communications Data Technology Center is the first service provider-grade data center to serve Northeast Arkansas businesses and the only one of its kind in the region.
"The new Ritter Communications Data Technology Center is a significant new contributor to economic development in Northeast Arkansas and the region," Gov. Hutchinson said. "This world-class facility better serves Northeast Arkansas businesses as it provides them a top-tier data center option that is closer than Little Rock or St. Louis. I congratulate Ritter Communications for continuing to bring technology innovations and infrastructure to Arkansas."
Construction on the Data Technology Center began in the spring of 2019 and despite the pandemic, was completed on schedule. Camfil APC and St. Bernards Healthcare are among the charter customers to use the Ritter Communications Data Technology Center. The 8,544 square-foot facility brings industry-leading data security and privacy certifications, providing business customers a highly secure, offsite location to store data and IT infrastructure. The facility was designed by Cushing Terrell (formerly CTA Architects Engineers) and constructed by Nabholz Construction.
"At the Ritter Communications Data Technology Center, we operate in accordance with strict privacy and security guidelines. Customer data protection is top-priority, no matter what," said Ritter Communications CEO Alan Morse. "From California seismic codes and EF3 tornado resiliency, to bio-metric security and advanced clean-powered backup generators, the new Data Technology Center provides secure data center, cloud computing and disaster recovery solutions that protect our customers and their technology assets from any major environmental or cyber risks."
The new Ritter Communications Data Technology Center features a state-of-the-art network operations center staffed 24/7/365. Data and infrastructure are protected by N+2 dual-fuel back-up power, .75 MW power capacity and geo-diverse, carrier-neutral fiber entrance systems. The facility can accommodate a total of 82 full racks, four cages with four racks and co-location and storage space for customer IT. Additionally, the Data Technology Center has modular-inline cooling and clean-agent fire-extinguishing systems. It is HIPAA, PCI and SOC 2 compliant.
The Ritter Communications Data Technology Center is open and fully operational, serving customers with state-of-the-art technology solutions. To learn more about the new Ritter Communications Data Technology Center, visit the Ritter Communications Data Technology Center webpage on ritterbusiness.com. More information about Ritter Communications and its services is available on the company's website, rittercommunications.com, Facebook, Twitter and LinkedIn.
###
About Ritter Communications: Ritter Communications, headquartered in Jonesboro, Arkansas, began providing local phone service in 1906. Today, Ritter Communications serves 94 communities and more than 45,000 customers across Arkansas, northeast Texas, southeast Missouri, and west Tennessee. The company has grown steadily over the years, expanding rapidly and is now the largest privately-held regional broadband fiber, telecom, video and cloud services provider in the Mid-South. Ritter invests heavily in the communities it serves by deploying proven, best-in-class infrastructure and technology, while coupling it with a world-class customer focused experience. For more information, visit www.rittercommunications.com.
# # #
Media Coverage:
Arkansas Business - https://www.arkansasbusiness.com/article/133828/ritter-communications-opens-its-8m-data-center