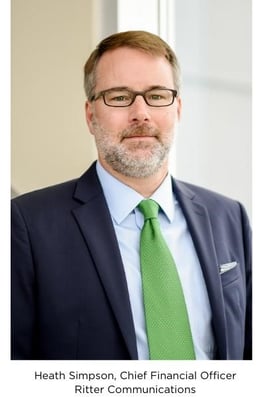 JONESBORO, Ark. (May 26, 2020) – Ritter Communications, a leading regional broadband provider, has hired Heath Simpson as Chief Financial Officer. Simpson will provide strategic insight and leadership for the company's financial operations.
"Heath has stepped into the role previously held by Bill Harrison," said Alan Morse, Ritter Communications CEO. "We conducted a nationwide search with the help of a highly esteemed executive search firm. We know Heath brings the skills, experience, telecom expertise and cultural fit we need to support our continued growth efforts and I'm pleased to welcome him to our leadership team."
Simpson brings 25 years of extensive financial and operational experience, almost 20 of which is in the telecommunications industry, to support Ritter Communications' position as a leading telecom and broadband internet provider. Simpson participated in industry transformative transactions during his over 10 years at AT&T. He also served as a senior executive with Frontier Communications, leading Corporate Development, Strategy and Financial Planning and Analysis. More recently, Simpson served as CFO of BACOM, Inc., a privately-held telecom infrastructure company. He earned his Master of Business Administration and Bachelor of Business Administration degrees from Texas Christian University, and is a former officer in the Army Reserve.
"Ritter Communications is dedicated to providing reliable telecom services and a superior customer experience. Heath Simpson will help us continue to pursue that vision." Morse said. "We are excited for the experience and expertise he brings to our leadership team.
"I'd also like to recognize Bill Harrison for the tremendous contributions he made to Ritter Communications over the past several years," Morse said. "We could not have made the major strides we've accomplished without his counsel, skills and expertise, and we wish him well in his continuing role at E. Ritter and Company."
# # #
About Ritter Communications

Ritter Communications, headquartered in Jonesboro, Arkansas, began providing local phone service in 1906. Today, Ritter Communications serves 92 communities and more than 45,000 customers across Arkansas, southeast Missouri and west Tennessee. The company has grown steadily over the years, expanding rapidly since 2010 and is now the largest privately-held regional broadband fiber, telecom, video and cloud services provider in the Mid-South. Ritter invests heavily in the communities it serves by deploying proven, best-in-class infrastructure and technology, while coupling it with a world-class customer focused experience. For more information visit www.rittercommunications.com.
Media Coverage:
Talk Business and Politics - https://talkbusiness.net/2020/05/heath-simpson-named-cfo-for-ritter-communications/
Arkansas Money & Politics - https://armoneyandpolitics.com/tag/heath-simpson/