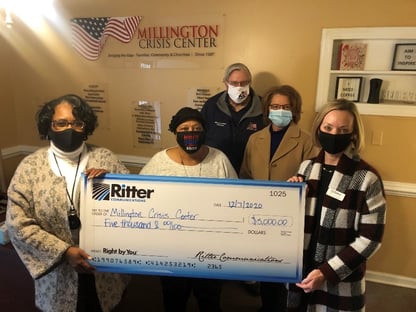 Pictured from left to right: Millington Crisis Center Executive Director Debra Sigee; Millington Crisis Center Volunteer Carol Jenkins; Millington Alderman and Millington Crisis Center Board Chairman Mike Caruthers; Bancorp South President and Millington Crisis Center Board Member Rene Jones; Ritter Communications Vice President of Marketing Susan Christian.
JONESBORO, Ark. – (December 7, 2020) – Ritter Communications, a regional telecommunications provider, is donating $5,000 to the Millington Crisis Center in lieu of the company's annual Santa Connection event. The event will not be held this year due to pandemic safety concerns.
The $5,000 donation from Ritter Communications will be used to buy toys for local children this Christmas and help Millington residents registered with the Crisis Center pay for rent and utilities. "Ritter Communications is proud to make this contribution to the Millington Crisis Center. While we are certainly saddened to miss our visit with Santa this year, we know this is the safest option for the children and their families," said Ritter Communications Vice President of Marketing Susan Christian. "We are pleased to partner with the Crisis Center in helping the Millington community this Christmas."
"We are so grateful to have Ritter Communications as a community partner this year. The holidays can be tough for many families here in the City of Millington and Unincorporated North Shelby County 38053 zip code area, their generous donation will help our community this holiday season," said Executive Director of Millington Crisis Center Debra Sigee.
The Santa Connection event is a long-standing tradition. Each year, Santa sets up his Santa House for a series of evening visits and keepsake photos outside the Millington office. The elves assist Santa and bring the Christmas magic to life for both the children and their families, making this a yearly holiday tradition for many that the company hopes to continue next year.
More information about Ritter Communications and its services is available on the company's website, rittercommunications.com, Facebook, Twitter and LinkedIn.
###
About Ritter Communications: Ritter Communications, headquartered in Jonesboro, Arkansas, began providing local phone service in 1906. Today, Ritter Communications serves 94 communities and more than 45,000 customers across Arkansas, northeast Texas, southeast Missouri, and west Tennessee. The company has grown steadily over the years, expanding rapidly and is now the largest privately-held regional broadband fiber, telecom, video and cloud services provider in the Mid-South. Ritter invests heavily in the communities it serves by deploying proven, best-in-class infrastructure and technology, while coupling it with a world-class customer focused experience. For more information, visit www.rittercommunications.com.
# # #
Media Coverage:
The Millington Star - http://www.millington-news.com/?p=9263