Ritter Communications is pleased to announce $223,672 was raised at the 36th Annual St. Jude Country Cares for Kids Radio and Cablethon Friday and Saturday, March 4 and 5, 2016 in Blytheville, Arkansas.
All money raised benefits St. Jude Children's Research Hospital, one of the world's premier centers for the research and treatment of childhood cancer and other catastrophic diseases.
"This event is just one of the ways we demonstrate Ritter's commitment to the people and communities we serve and our pledge to always be 'Right By You'," said Ritter Communications Vice President of Marketing Susan Christian. "Many of the Ritter employees dedicate their time and expertise by volunteering for the phone panel, raising money internally prior to the event and filming the event LIVE in front of an audience."
This year Ritter donated $6725 from employee contributions. This is the ninth year Ritter's local access channel, Tubetown, which is channel 21 in Northeast Arkansas and Southeast Missouri and channel 11 in West Tennessee, broadcasted the event LIVE from 10 am to 6 pm Saturday to thousands of Ritter cable TV customers.
ESA Sorority, a women's civic club established in Northeast Arkansas who has taken ownership of this event for many decades, presented the annual award of 'Man of the Year" to Bob Logan, the morning show host on KHLS Thunder Country 96.3 FM.
Thunder Country, a radio station of Sudburry Broadcasting established in Blytheville, promoted the radiothon and hosted many on air talent segments featuring patients and survivors from St. Jude Children's Research Hospital all day Friday, March 4, 2016, to their Northeast Arkansas coverage area.
"Marcus Carlton, the 2015 Best Man of the Year Award recipient, and Production Assistant Brandon Reid lead the Tubetown crew in the production of this year's event and they do a fabulous job coordinating this program each year!" said Ritter Communications Marketing Director Jane Marie Woodruff.
"Giving back is the heart of our community commitment," said Ritter Communications Marketing Coordinator Natalie Fleeman. "We can't think of a better organization than St. Jude to partner with in making a difference in the lives of children. We consider it a privilege to assist in raising money to find cures, save children and help families regardless of their ability to pay."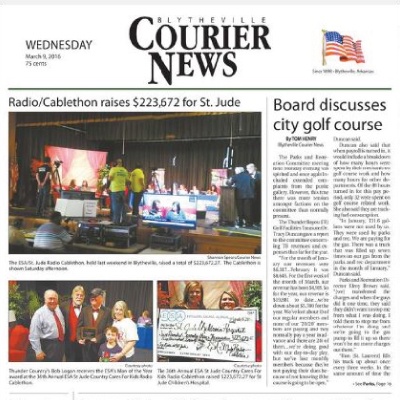 Click here to view a video from this year's event.
About St. Jude Children's Research Hospital:
St. Jude Children's Research Hospital is internationally recognized for its pioneering work in finding cures and saving children with cancer and other catastrophic diseases. St. Jude is the first and only pediatric cancer center to be designated as a Comprehensive Cancer Center by the National Cancer Institute. Founded by late entertainer Danny Thomas and based in Memphis, Tenn., St. Jude freely shares its discoveries with scientific and medical communities around the world. St. Jude is the only pediatric cancer research center where families never pay for treatment not covered by insurance. No child is ever denied treatment because of the family's inability to pay. St. Jude is financially supported by ALSAC, its fundraising organization. For more information, please visit www.stjude.org.
About Ritter Communications:
Ritter Communications, founded in Marked Tree, Arkansas and headquartered in Jonesboro, began providing local phone service in 1906. Today, Ritter serves 59 communities and more than 45,000 customers in northeast and north central Arkansas, southeast Missouri and west Tennessee with advanced voice and data services, cable TV and high speed Internet typically found only in major metropolitan areas. Ritter invests heavily in the communities it serves by deploying proven, best in class infrastructure and technology while coupling it with a world class customer focused experience. To stay connected visit facebook.com/rittercommunications.