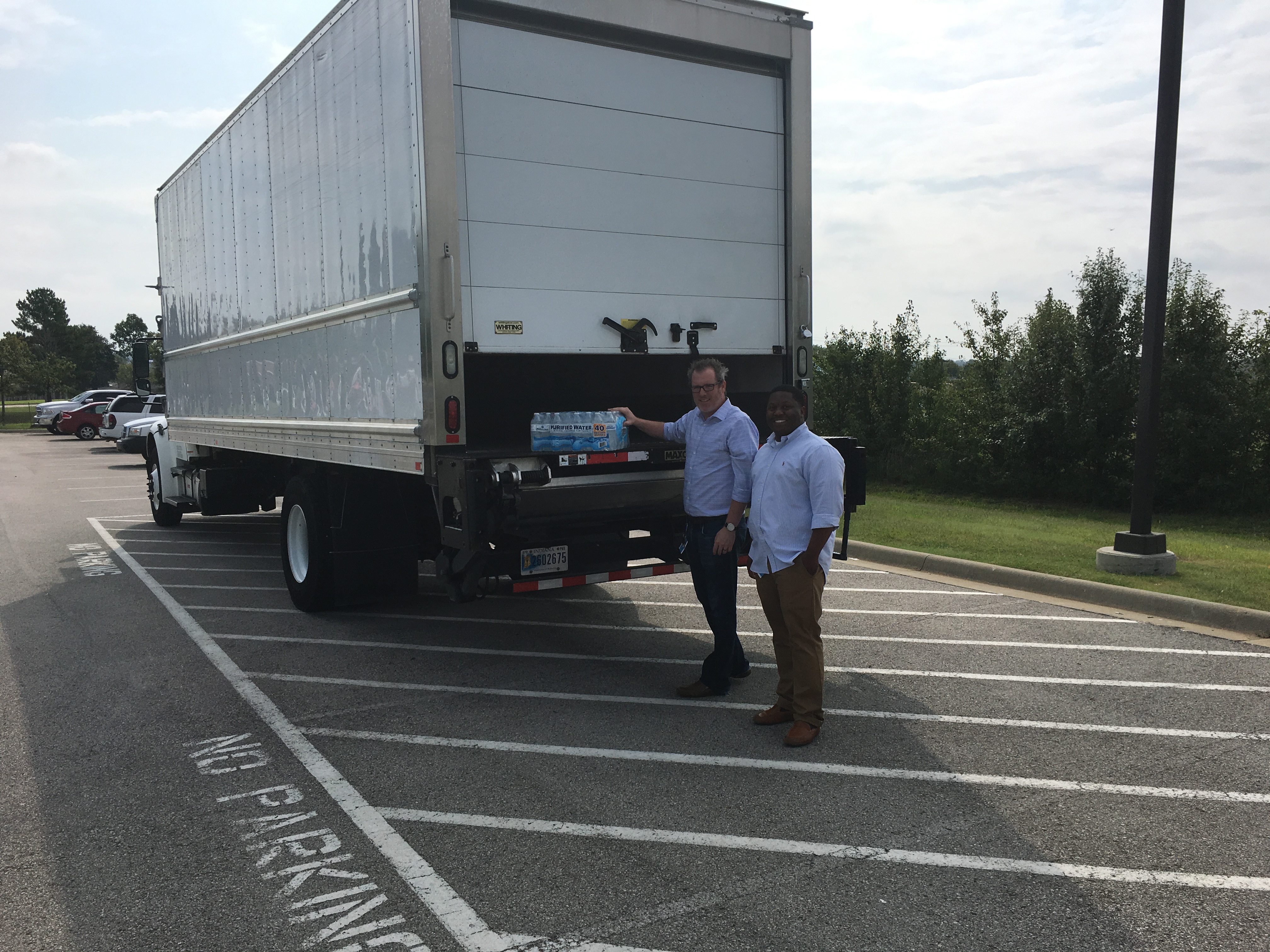 Ritter's Kyle Keith and Darrious Duffin will drive a truck to East Texas Saturday to deliver bottled water to help those impacted by the floods.
Ritter Communications is collecting bottled water at its Jonesboro office (2400 Ritter Drive) today which the company will deliver to Beaumont, Texas this weekend. Individuals who are interested in contributing may drop off cases of water at Ritter's loading dock (located on the south side of the building) by 5 p.m. Friday.
Beaumont, a city of 100,000 people located 80 miles west of Houston, is in desperate need for clean water after the city's municipal water pumps failed earlier this week due to flooding in the area.
"One of our employees spoke with the local sheriff, and he communicated a dire need for clean water," said Ritter Communications President Alan Morse. "As a company, we feel compelled to help our neighbors, and we invite the Jonesboro community to join the effort."
Ritter rented a box truck that will leave Jonesboro Saturday morning to deliver the water to East Texas. Individually-bottled 24-packs water are ideal for donation.
For more information, please contact the Ritter Communications marketing team at 870-336-3415.
###
About Ritter Communications:
Ritter Communications, founded in Marked Tree, Arkansas and headquartered in Jonesboro, began providing local phone service in 1906. Today, Ritter serves 62 communities and more than 45,000 customers in northeast and north central Arkansas and west Tennessee with advanced voice and data services typically found only in major metropolitan areas. Ritter invests heavily in the communities it serves by deploying proven, best in class infrastructure and technology while coupling it with a world class customer focused experience.
Residential consumer services include local and long distance phone service, cable television and high speed internet. Business services include customized communications systems and services, including, broadband Internet services, Managed Voice, data center services, Ethernet connectivity, customized networking and hosted applications. For more information, visit rittercommunications.com or facebook.com/rittercommunications.
About Tubetown:
Tubetown, the local content and coverage channel of Ritter Communications, airs live and pre-recorded high school sports, as well as local events, parades, charities and pageants. Tubetown was established in 2008 and reaches over 14,500 Ritter TV subscribers in Arkansas, Tennessee and Missouri. Tubetown airs on channel 11 in west Tennessee and channel 21 northeast Arkansas/Missouri. Visit Tubetownonline.com on the web and receive programming updates via our Twitter account,@Tubetown. Like our Facebook page at facebook.com/tubetownonline.