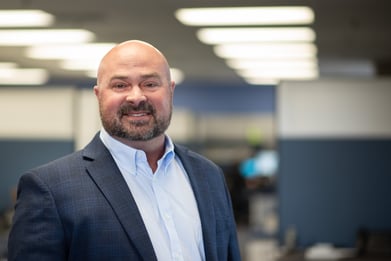 JONESBORO, Ark. – (May 3, 2022) – Ritter Communications, the largest privately held telecommunications service provider in the Mid-South, announces Jeff Flowers has been hired as Vice President, Carrier and Wholesale Services. In his role, Flowers has end-to-end responsibility for all carrier relations and wholesale activities, managing carrier sales contracts, providing strategic oversight and overseeing budgeting and forecasting for Ritter Communications Wholesale division. He is also responsible for originating new business while overseeing product and service proposals.
As Ritter Communications continues to expand its industry-leading high-speed 100% fiber telecom services across the Mid-South, Flowers plays an integral role in facilitating that growth by securing new business and ensuring the company upholds its mission and commitment to do right by its wholesale customers.
"With our recent growth as a company, our work has never been more meaningful as we continue to expand our footprint across the Mid-South and connect more communities with the highest quality telecom services," said Alan Morse, President and CEO of Ritter Communications. "Jeff's addition to our team helps ensure that our wholesale and carrier clients understand Ritter Communications uncompromising standards of service and makes the overall customer experience effortless and positive."
Flowers brings 25 years of experience in the telecom industry to Ritter Communications. He joins Ritter Communications after nine years serving in a variety of positions with a telecom company based in Little Rock, most recently as Vice President of the company's Wholesale Division.
"Ritter Communication is proud to offer customized solutions to wholesale customers across the Mid-South with over 3,400 miles of fiber," said Kyle Keith, Senior Vice President and General Manager of Enterprise, Wholesale and Cloud. "Jeff's experience and expertise will ensure that our services continue to exceed customer expectations and we stand out as a provider of choice."
Ritter Communications is a regional telecommunications provider, headquartered in Jonesboro, Arkansas serving over 112 communities in the region across four states with a full suite of innovative communications services. Learn more at RitterBusiness.com or RightFiber.com.
# # #
Ritter Communications is the largest privately held telecommunications service provider in the Mid-South, offering world-class broadband fiber, telecom, video, cloud and data services. The company has grown rapidly over the years, investing millions recently in technology infrastructure and is now serving over 112 communities with more than 45,000 business, residential and wholesale customers in Arkansas, Texas, Missouri and Tennessee. Headquartered in Jonesboro, Arkansas, Ritter Communications invests heavily in the communities it serves by deploying proven, best-in-class infrastructure and technology, while coupling it with a world-class customer-focused experience. For more information visit, RitterBusiness.com or RightFiber.com.