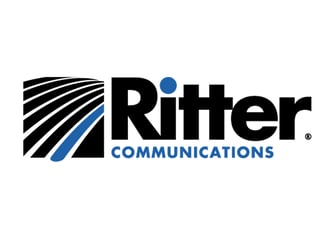 JONESBORO, Ark. (October 24, 2022) – Ritter Communications, the largest privately held telecommunications provider serving exclusively the Mid-South, announces a $5.5 million expansion project to bring its telecom service and advanced cloud solutions to businesses, manufacturers, healthcare and schools in Cape Girardeau, Missouri. This is the company's first expansion project in Missouri.
"High-quality telecom services are essential to organizations of all sizes and all industries," said Ritter Communications CEO Alan Morse. "Ritter Communications services and solutions are tools organizations need to not only support their day-to-day operations but to thrive and serve their communities. We are excited to bring our best-in-class fiber service to Missouri and proud to start in Cape Girardeau."
Ritter Communications is the first to bring XGS-PON technology to the Cape Girardeau area. This technology uses 100% fiber connectivity to power the company's full suite of reliable high-quality broadband solutions and telecom services with speeds up to 100 gigabits per second. In addition, customers have access to the Ritter Communications Data Technology Center, a world-class, highly secure facility equipped with local customer support teams, offering advanced cloud solutions to meet the unique information and storage needs of businesses.
"High-quality telecom services are necessary to keep and attract businesses in today's world and economy," said Cape Girardeau Chamber of Commerce President and CEO Rob Gilligan. "We're grateful that Ritter Communications is investing in our rural community and bringing established and future organizations in Cape Girardeau the ability to access services they need to better serve our community."
Construction of this expansion project began in April 2022, and customers will start receiving Ritter Communications telecom services by late October.
Ritter Communications is a regional telecommunications provider, headquartered in Jonesboro, Arkansas serving more than 113 communities in the region across four states with a full suite of innovative communications services. Learn more at RitterBusiness.com.
# # #
About Ritter Communications: Ritter Communications is the largest privately held telecommunications provider serving exclusively the Mid-South, offering world-class broadband fiber, telecom, video, cloud and data center services. The company has grown rapidly over the years, investing millions recently in technology infrastructure and is now serving 113 communities and more than 45,000 customers in Arkansas, Texas, Missouri and Tennessee. Headquartered in Jonesboro, Arkansas, Ritter Communications invests heavily in the communities it serves by deploying proven, best-in-class infrastructure and technology, while coupling it with a world-class customer-focused experience. For more information visit RitterCommunications.com.