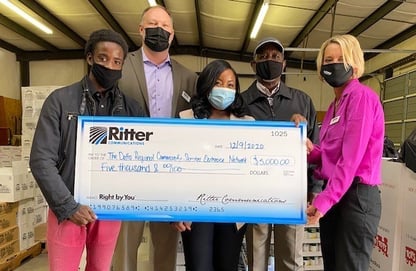 Representatives from The Delta Regional Community Services Outreach Network accept a $5,000 donation from Ritter Communications Director of Sales Josh Bradley (second from left) and sales representative Michele Watson (far right).
JONESBORO, Ark. – (December 17, 2020) – Ritter Communications, a leading regional broadband provider headquartered in Jonesboro, completed a $2.8 million investment in Pine Bluff to bring 100 percent high-speed fiber internet and advanced business solutions to business customers. Ritter Communications brings a full suite of telecommunications services, providing the business community access to high-speed, 100 percent fiber internet, voice, cloud solutions, networking and television services.
Ritter Communications brings XGS-PON services to the Pine Bluff business community, delivering up to 10 gigabits per second of 100 percent fiber connectivity to users. The company's top-of-the-line service suite also provides custom cloud solutions, providing businesses secure data storage, which is supported by a specialized customer service team. Ritter Communications' customer care team assists users with all services, eliminating the need for third-party technical support.
"Ritter Communications is eager to provide Pine Bluff businesses with our state-of-the-art internet and cloud solutions. And we have seen the business community respond to this critical technology need with 37 businesses to date, ready to connect." Ritter Communications CEO Alan Morse said. "We understand that now, more than ever, a business has to have confidence in their connectivity. Our top-tier services are supported by an expert customer service team who knows your business in and out. We are a local company, and our Right by You pledge translates into superior service and solutions in every community we serve, giving our customers and their businesses a competitive edge."
Ritter Communications connected the first Pine Bluff business customer in November and business customers will continue to be turned on in zones. To celebrate the launch of services in Pine Bluff, Ritter Communications is donating $5,000 to the Delta Regional Community Services Outreach Network. "We are grateful for this generous contribution from Ritter Communications," said Delta Network Food Bank Director Jacqueline Ross. "Their contribution will help us ease the burden of food insecurity here in Pine Bluff."
"Now, more than ever, our business community must have reliable access to high-speed internet. Pine Bluff is thrilled to have Ritter Communications in our neighborhood because we know they will do whatever it takes to keep us connected," said Pine Bluff Regional Chamber of Commerce Director Nancy McNew.
Ritter Communications is a regional telecommunications provider, headquartered in Jonesboro, Arkansas, serving 94 communities in the region across four states with a full suite of innovative communications services. For additional information go to RitterCommunications.com.
# # #
About Ritter Communications: Ritter Communications is the largest privately held telecommunications service provider in the Mid-South, offering world-class broadband fiber, telecom, video, cloud and data center services. The company has grown rapidly over the years, investing millions recently in technology infrastructure and is now serving 94 communities and more than 45,000 customers in Arkansas, Texas, Missouri and Tennessee. Headquartered in Jonesboro, Arkansas, Ritter Communications invests heavily in the communities it serves by deploying proven, best-in-class infrastructure and technology, while coupling it with a world-class customer-focused experience. For more information visit RitterCommunications.com.
PB Commercial - https://www.arkansasonline.com/news/2020/dec/24/internet-provider-gets-up-running/?news-arkansas