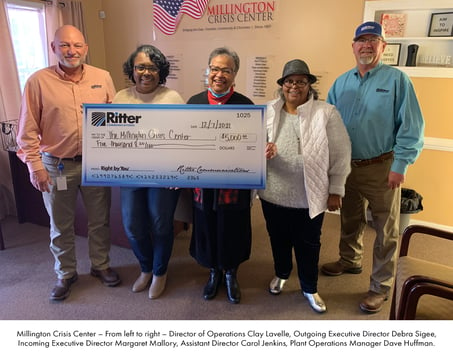 JONESBORO, Ark. – (December 7, 2021) – Ritter Communications, a mid-south telecommunications provider, donates $10,000 to local communities in Tennessee in lieu of the annual Santa Connection event. The event will not be held this year due to the on-going pandemic and public safety concerns.
The donations from Ritter Communications were presented to the Millington Crisis Center and the Carl Perkins Center in Tipton County. Each location received $5,000. The donations will be used to support the centers' mission statements in providing support for the community and its residents. "The work that these two organizations do for the community is incredible and we are honored to support their continued efforts," said Ritter Communications Vice President of Marketing Susan Christian.
"We have been serving the community since 1987 and we are proud to continue to serve Millington thanks to the support of businesses like Ritter Communications. We are so grateful for their support." said Executive Director of Millington Crisis Center Debra Sigee.
The mission of the Millington Crisis Center is to assist individuals or families inside the Millington community and Unincorporated North Shelby County 38053 zip code area experiencing temporary crisis situations rendering appropriate services regardless of race, nationality, creed, or religion.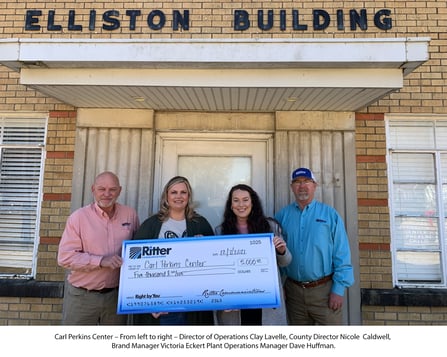 The Carl Perkins Center for the prevention of child abuse provides services to children and their families. "It is incredible to know that Ritter Communications can support children in Tipton county. This donation will work to give children back their childhood and let them know that someone cares," said Carl Perkins Director Nicole Caldwell.
The mission of The Carl Perkins Center is to provide support to families in preventing and dealing with child abuse in West Tennessee and to help both parents and children meet the practical needs of preserving and improving the quality of family life.
The Santa Connection event is a long-standing tradition. Each year, Santa sets up his Santa House for a series of evening visits and keepsake photos outside the Millington office. The elves assist Santa and bring the Christmas magic to life for both the children and their families, making this a yearly holiday tradition for many that the company hopes to continue next year.
More information about Ritter Communications and its services is available on the company's website, rittercommunications.com, Facebook, Twitter and LinkedIn.
###
About Ritter Communications: Ritter Communications is the largest privately held telecommunications service provider in the Mid-South, offering world-class broadband fiber, telecom, video, cloud and data center services. The company has grown rapidly over the years, investing millions recently in technology infrastructure and is now serving 106 communities and more than 45,000 customers in Arkansas, Texas, Missouri and Tennessee. Headquartered in Jonesboro, Arkansas, Ritter Communications invests heavily in the communities it serves by deploying proven, best-in-class infrastructure and technology, while coupling it with a world-class customer-focused experience. For more information visit RitterCommunications.com.