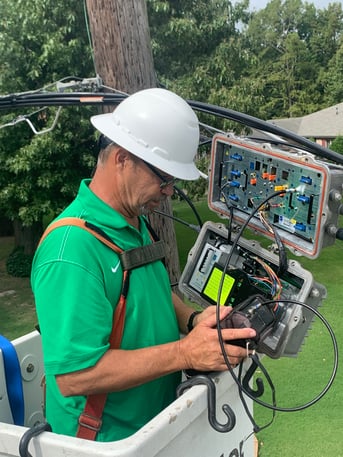 JONESBORO, Ark. (November 15, 2022) – Ritter Communications, the largest privately held telecommunications service provider, serving exclusively the Mid-South, has completed a $12.5 million fiber-rich network upgrade affecting numerous rural communities across Northeast Arkansas and Western Tennessee, using the best technology available on the market to bring residential customers the company's fastest 1-gigabit internet.
"With more devices per household, and more devices per person, faster speeds are necessary to meet the unique needs of each customer," said Ritter Communications CEO Alan Morse. "Part of our Right by You commitment is doing right by our customers, and that is what this upgrade is all about. Ritter Communications works to ensure our customers have high-quality broadband services that give them access to the things they need to work, learn and live."
The upgrade undertaken by Ritter Communications was a comprehensive overhaul of the company's network that will positively affect 45 communities. The nearly 24,000 residential internet customers benefitting from this upgrade will experience improved network quality and security, signal strength, and a better wall-to-wall WiFi experience. Customers will notice less buffering, fewer outages and improved power consumption.
The upgrade was intended to be a three-year project with initial construction starting in February 2021. However, the upgrade was completed ahead of schedule in the Fall of 2022. This upgrade integrates the industry's most advanced technology with existing infrastructure to expand access which furthers Ritter Communications commitment to bridging the digital divide and improving the quality of life for residents and communities. This network upgrade was developed with the future in mind, ensuring Ritter's fiber-rich network will meet the progressive demands of future technological innovation.
"This upgrade demonstrates Ritter Communications' commitment to providing competitive industry-leading internet services while putting the customer experience first," said Ritter Communication VP of Hometown Services Bob Mouser. "Through this fiber-rich investment, we are bringing speeds faster than most devices are even capable of using at this time, enabling us to build beyond our current needs as we look to the future."
Area customers interested in taking advantage of the enhanced 1 gig speed can upgrade their service to new higher speed packages by calling Ritter Communications at (888) 336-4466 or by visiting www.rittercommunications.com.
Ritter Communications is a regional telecommunications provider, headquartered in Jonesboro, Arkansas, serving more than 113 communities in the region across four states with a full suite of innovative communications services.
# # #
About Ritter Communications: Ritter Communications is the largest privately held telecommunications provider serving exclusively the Mid-South, offering world-class broadband fiber, telecom, video, cloud and data center services. The company has grown rapidly over the years, investing millions recently in technology infrastructure and is now serving 113 communities and more than 45,000 customers in Arkansas, Texas, Missouri and Tennessee. Headquartered in Jonesboro, Arkansas, Ritter Communications invests heavily in the communities it serves by deploying proven, best-in-class infrastructure and technology, while coupling it with a world-class customer-focused experience. For more information visit RitterCommunications.com.