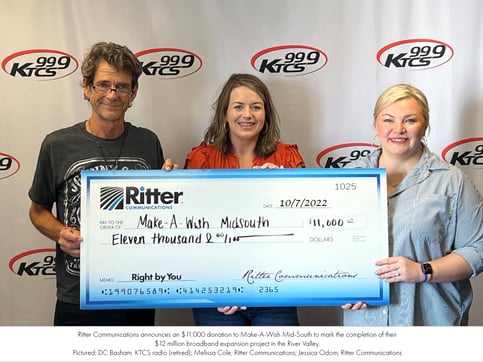 JONESBORO, Ark. (October 25, 2022) – Ritter Communications, the largest privately held telecommunications service provider serving exclusively the Mid-South, donated $11,000 to a regional nonprofit organization to mark the completion of the company's $12 million broadband expansion project serving Fort Smith, Van Buren, Alma and Ozark.
Ritter Communications made the donation to the Make-A-Wish Mid-South chapter in Fort Smith. "Community support is a priority and a pledge at Ritter Communications. When we bring broadband service to a community, we pledge to be a good neighbor and that includes support for important community organizations," said Ritter Communications CEO Alan Morse. "Organizations like Make-A-Wish bring positive change to the lives of so many local families and that aligns with our company's core values and our Right by You pledge."
The donation gave a five-year-old Fort Smith child a bedroom makeover, whose extended hospital stays made him wish for a space at home that included some of his favorite things. Make-A-Wish CEO Casey Tansey said, "Our partners are who make wishes possible. Without the generosity of local companies and donors, children with critical illnesses wouldn't experience the crucial hope of a wish."
Ritter Communications is a regional telecommunications provider, headquartered in Jonesboro, Arkansas serving more than 113 communities in the region across four states with a full suite of innovative communications services. Learn more at RitterBusiness.com.
# # #
About Ritter Communications: Ritter Communications is the largest privately held telecommunications provider serving exclusively the Mid-South, offering world-class broadband fiber, telecom, video, cloud and data center services. The company has grown rapidly over the years, investing millions recently in technology infrastructure and is now serving 113 communities and more than 45,000 customers in Arkansas, Texas, Missouri and Tennessee. Headquartered in Jonesboro, Arkansas, Ritter Communications invests heavily in the communities it serves by deploying proven, best-in-class infrastructure and technology, while coupling it with a world-class customer-focused experience. For more information visit RitterCommunications.com.