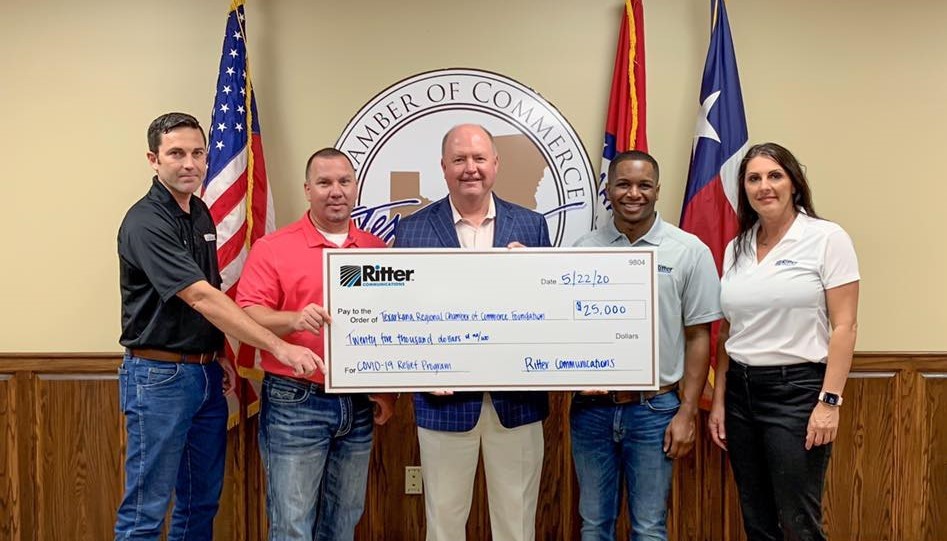 Ritter Communications staff present Texarkana Regional Chamber of Commerce President Mike Malone with $25,000 donation for the Chamber's Small Business Support Program. Pictured from left to right: Philip McDowell, Business Services Technician, Ritter Communications; Chad Bennett, Senior Solutions Engineer, Ritter Communications; Joey Martin, Texarkana Chamber Board of Directors Chairman, Texarkana Chamber of Commerce; Roderick Hall, Business Sales Representative, Ritter Communications; Michelle Citty, Business Sales Representative, Ritter Communications.
JONESBORO, Ark. (June 3, 2020) – Ritter Communications, a leading regional broadband provider, has donated $25,000 to the Texarkana Regional Chamber of Commerce Foundation's COVID-19 Small Business Support Program. The grant program was established by the Chamber and several other community partners to help Texarkana small businesses recover from the negative impacts of COVID-19.
"We want to help small businesses get back on their feet. We believe our $25,000 contribution to the Chamber's relief program will allow the program to support more businesses as they reopen and find their way in this new business environment," said Alan Morse, Ritter Communications CEO. "We commend the Chamber's leadership for making this program available."
Ritter Communications brings high-speed, 100 percent fiber internet, voice, cloud solutions, networking and television services to the business community of Texarkana. Ritter Communications is the first provider to offer this XGS-PON service in Texarkana. The telecommunications technology delivers services that access up to 10 gigabits per second of 100 percent fiber connectivity to users.
"We live in a world where high-speed, dependable connection is a must to maintain a successful business. Our business community understands the necessity of communication. We are happy to welcome Ritter Communications to our business community," said Mike Malone, Texarkana Chamber of Commerce President. "We are thrilled with their investment in the Texarkana area and their strong contribution to the Chamber Foundation's COVID Recovery relief program."
"Ritter Communications invests in the communities we serve. We're proud and excited about entering the Texarkana market to serve businesses with our 100 percent fiber services. Supporting the Texarkana commercial community through the Chamber of Commerce's Business Relief Program makes a lot of sense to us," Morse said.
Ritter Communications is a regional telecommunications provider, headquartered in Jonesboro, Arkansas, serving 92 communities in the region across four states with a full suite of innovative communications services.
# # #
About Ritter Communications: Ritter Communications, headquartered in Jonesboro, Arkansas, began providing local phone service in 1906. Today, Ritter Communications serves 92 communities and more than 45,000 customers across Arkansas, northeast Texas, southeast Missouri, and west Tennessee. The company has grown steadily over the years, expanding rapidly and is now the largest privately-held regional broadband fiber, telecom, video and cloud services provider in the Mid-South. Ritter invests heavily in the communities it serves by deploying proven, best-in-class infrastructure and technology, while coupling it with a world-class customer focused experience. For more information visit www.rittercommunications.com.
Media Coverage:
Kicker 102.5 - https://kkyr.com/4-events-to-check-out-next-week/
Kool 95.1 - https://www.mykoolradio.com/covid-19-business-support-program/
Majic 93.3 - https://mymajic933.com/chamber-now-accepting-applications-for-covid-19-business-support-program/
East Texas Radio - https://easttexasradio.com/texarkana-chamber-news-6/