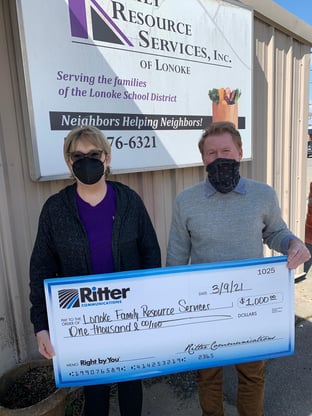 Jane Fowler (left) from Family Resource Services, Inc. in Lonoke accepts a $1,000 donation from Ritter Communications Sales Representative Scott Pratt (right).
JONESBORO, Ark. – (March 18, 2021) – Ritter Communications, a leading regional broadband provider headquartered in Jonesboro, has expanded the company's 100% fiber high-speed internet and advanced business solutions to Lonoke business customers. In addition to state-of-the-art fiber internet, Ritter Communications brings a full suite of telecommunications services including voice, cloud solutions, networking and television services. The Lonoke expansion is part of the company's ongoing plan to provide 100% fiber services in Pine Bluff, Arkadelphia and Texarkana.
Ritter Communications is the first provider to offer XGS-PON service in Lonoke, which delivers access up to 10 gigabits per second of 100% fiber connectivity to business customers. A specialized customer support team is available locally, assisting users with all services and eliminating the need for third-party technical support. The company's top-of-the-line service suite also provides custom cloud solutions, providing Lonoke businesses access to the new Ritter Communications Data Technology Center.
"Ritter Communications is committed to providing rural communities with high-quality 100% fiber services. We understand access to high-speed internet connectivity is crucial to the success of the Lonoke business community," Ritter Communications CEO Alan Morse said. "We are a local company, and our Right by You pledge translates into superior service and solutions in every community we serve, giving our customers and their businesses a competitive edge."
To celebrate the launch of services in Lonoke, Ritter Communications is contributing $1,000 to Family Resource Services, Inc. in Lonoke. "Family Resource Services, Inc. is thankful for the generosity Ritter Communications is showing our community," Family Resource Services, Inc. Executive Director Jane Fowler said. "Their $1,000 donation will provide food and groceries for Lonoke families and students within the Lonoke School District who are in need of hunger relief."
Headquartered in Jonesboro, Arkansas, Ritter Communications serves 95 communities in the region across four states with a full suite of innovative communications services. For more information, go to RitterCommunications.com.
# # #
About Ritter Communications: Ritter Communications is the largest privately held telecommunications service provider in the Mid-South, offering world-class broadband fiber, telecom, video, cloud and data center services. The company has grown rapidly over the years, investing millions recently in technology infrastructure and is now serving 95 communities and more than 45,000 customers in Arkansas, Texas, Missouri and Tennessee. Headquartered in Jonesboro, Arkansas, Ritter Communications invests heavily in the communities it serves by deploying proven, best-in-class infrastructure and technology, while coupling it with a world-class customer-focused experience. For more information visit RitterCommunications.com.
Media Mentions:
AMP - https://armoneyandpolitics.com/ritter-communications-expanding-broadband-coverage-to-lonoke/

Talk Business & Politics - https://talkbusiness.net/2021/03/ritter-communications-expands-into-lonoke/

Arkansas Business - https://www.arkansasbusiness.com/article/135120/ritter-rolls-out-fiber-to-lonoke-businesses

NWA Dem Gazette - https://www.nwaonline.com/news/2021/mar/21/high-speed-internet-flowing-to-rural-arkansas/