JONESBORO, Ark. – (July 27, 2021) – Ritter Communications, a leading regional broadband provider headquartered in Jonesboro, is investing $12 million to bring 100% fiber internet services and advanced cloud solutions to businesses in the Arkansas River Valley Region. Four River Valley markets will be fiber-connected beginning with Alma and Ozark in August, Fort Smith in the fourth quarter and Van Buren in the first quarter of 2022.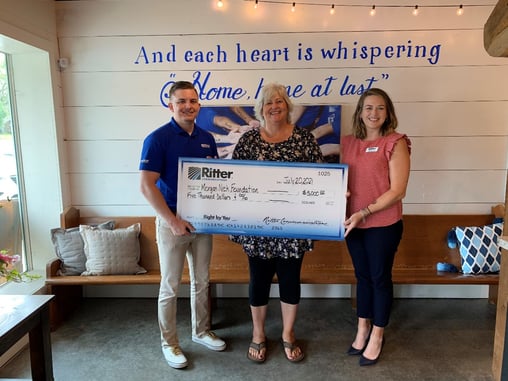 CAPTION: Colleen Nick of the Morgan Nick Foundation accepts a $5,000 donation from Ritter Communications Marketing Coordinator Melissa Cole (far right).
Ritter Communications delivers a full suite of telecommunications services, which offers business customers access to high-quality and reliable broadband solutions, delivering speeds up to 10 gigabits per second of 100% fiber connectivity. New business customers will also have access to the new Ritter Communications Data Technology Center, equipped with a local customer support team to assist with all services, eliminating the need for third-party technical support.
"Access to quality broadband internet is a must-have for all Arkansas businesses. Our highly-advanced internet services utilize the latest technology to provide rural communities with the most reliable and affordable broadband connectivity," said Ritter Communications CEO Alan Morse. "As we continue our efforts to close the digital gap in Arkansas, Ritter Communications looks forward to bringing our 100% fiber, state-of-the-art broadband internet services to the River Valley business community."
To celebrate the arrival of services in Alma and Ozark, Ritter Communications is contributing $5,000 to the Morgan Nick Foundation. "The Morgan Nick Foundation is grateful for the generous donation from Ritter Communications. We thank them for contributing to a cause that is so important to us," Colleen Nick, CEO and Founder of the Morgan Nick Foundation said. "The $5,000 donation will help us continue our efforts to protect the innocent by educating our communities on child safety, and empowering our children with essential safety knowledge and skills."
As planning for the River Valley region continues, construction is underway in Fort Smith. Company crews will be working in the area through the summer. Fort Smith businesses will be connected by zone beginning in late fall.
Ritter Communications is a regional telecommunications provider, headquartered in Jonesboro, Arkansas, serving over 100 communities in the region across four states with a full suite of innovative communications services. For additional information visit RitterCommunications.com.
# # #
About Ritter Communications: Ritter Communications is the largest privately held telecommunications service provider in the Mid-South, offering world-class broadband fiber, telecom, video, cloud and data center services. The company has grown rapidly over the years, investing millions recently in technology infrastructure and is now serving over 100 communities and more than 45,000 customers in Arkansas, Texas, Missouri and Tennessee. Headquartered in Jonesboro, Arkansas, Ritter Communications invests heavily in the communities it serves by deploying proven, best-in-class infrastructure and technology, while coupling it with a world-class customer-focused experience. For more information visit RitterCommunications.com.
Media Coverage:
KATV - https://katv.com/news/local/ritter-communications-investing-12-million-in-western-arkansas