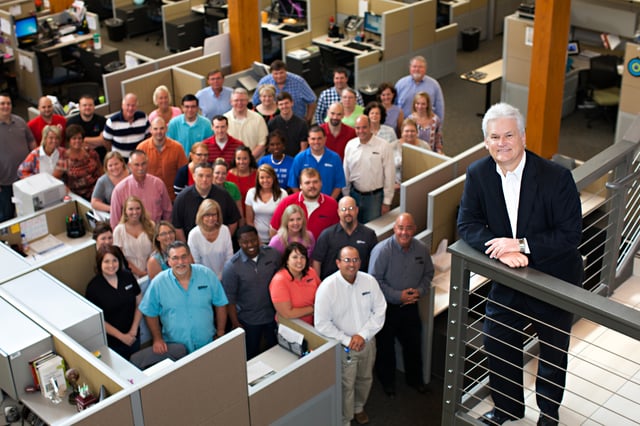 Jonesboro — E. Ritter & Company CEO Chip Dickinson announced today that following a nationwide search, Alan G. Morse has been chosen as President of Ritter Communications.
"Alan has distinguished himself through his work and leadership in the communications field," said Dickinson. "He shares our values and our focus on the customer and is committed to continuing our growth and innovation.
Morse is a highly accomplished telecommunications executive with an extensive background in strategic planning, sales, marketing and operations. Immediately prior to joining Ritter he was the principal of the Morse Consulting Group, a boutique management consulting firm offering strategic business planning and operations consulting services to a number of companies in the communications industry. From 2002 to 2007 he was CEO for iPCS, Inc., a $500 million and 500-employee wireless communications provider affiliated with Sprint. Prior to that, he was COO for Telepacific Communications, Inc., a private equity-backed CLEC providing business Internet, phone and data services in the Los Angeles, CA area.
"Alan's expertise is exactly what we were looking for in our new president," said Dickinson. "He is an excellent business strategist, communicator and motivator with a strong commitment to leadership and employee development."
"Ritter Communications is a progressive company, and I am honored to join this talented team of professionals," stated Morse. "I'm excited to be working with the employees, the board and the Ritter family to build on their strong foundation and lead in the development and execution of new initiatives for growth and expansion."
Alan is a graduate of Ohio State University and received a B.A. degree in Communications. He and his wife Nancy will relocate from the Columbus, OH area.
About Ritter Communications:
Ritter Communications, founded in Marked Tree, Arkansas and headquartered in Jonesboro, began providing local phone service in 1906. Today, Ritter serves 57 communities and more than 45,000 customers in northeast and north central Arkansas and west Tennessee with advanced voice and data services typically found only in major metropolitan areas. Ritter invests heavily in the communities it serves by deploying proven, best in class infrastructure and technology while coupling it with a world class customer focused experience.
Residential consumer services include local and long distance phone service, cable television and high speed Internet. Business services include customized communications systems and services, including, broadband Internet services, Managed Voice, data center services, Ethernet connectivity, customized networking and hosted applications. For more information, visit rittercommunications.com or facebook.com/rittercommunications.