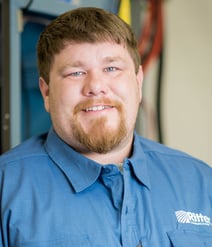 JONESBORO, AR – Shannon Cameron, a Ritter Communications Systems Maintenance Technician who works in the company's Northeast Arkansas service areas, recently broke a world record while competing at the 2019 International Cable Games in New Orleans, LA.
Cameron broke the world record in OTDR (Optical Time-Domain Reflectometer), resulting in him winning the first place gold medal for this competition. The previous record was 57.720 seconds and he completed it in 54.029 seconds. The OTDR game consists of using a fiber optic scope to determine if the connector is clean or dirty, cleaning the connector with a fiber cleaner and then answering a series of questions once done.
Cameron also won a gold medal after claiming first place in the fiber splicing event. He also came close to breaking this world record as well – completing the splice in 49.94 seconds, just 3.56 seconds behind the current world record, 46.38 seconds. In this competition, participants are asked to prepare a 250 micron piece of fiber, install an optical splice sleeve, and fusion-splice the two ends together. They are judged on safety, quality of the splice and time.
Cameron was very pleased with his performance this year saying,

"I was thrilled to have won two gold medals on an international level – but setting a new world record time in the OTDR event was really an astonishing feeling. When a person achieves something like this it makes them feel like they have an extraordinary skill that didn't come naturally – but was achieved through personal determination and commitment. I'm glad I could represent Ritter Communications and the SCTE Razorback Chapter in a very positive way."
Jim Roberts, Senior VP & GM of Ritter Communications Hometown Services, was also thrilled with Cameron's performance saying, "We are extremely grateful to have such a hard-working and committed technician like Shannon on our team. I speak for myself and the company when I say Shannon's accomplishments, once again, showcase the world-class skills that our local, customer-serving field technicians have and we couldn't be more proud of him."
The 2019 International Cable Games is an event hosted by the Society of Cable Telecommunications Engineers (SCTE) where communication companies come and compete in events that measure and demonstrate their technical skills and knowledge to determine the best of the best. The event was held Sept. 30, 2019 through Oct. 3, 2019 and is considered to be the premier cable telecom event in the Americas.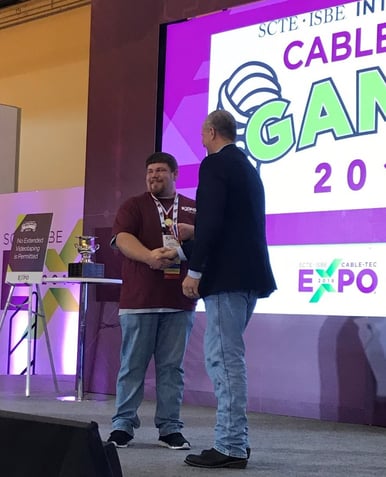 # # #
About Ritter Communications
Ritter Communications, headquartered in Jonesboro, Arkansas, began providing local phone service in 1906. Today, Ritter Communications serves 90 communities and more than 45,000 customers across Arkansas, southeast Missouri and west Tennessee. The company has grown steadily over the years, expanding rapidly since 2010 and is now the largest privately-held regional broadband fiber, telecom, video and cloud services provider in the Mid-South. Ritter invests heavily in the communities it serves by deploying proven, best-in-class infrastructure and technology, while coupling it with a world-class customer focused experience. For more information visit www.rittercommunications.com.
About the Society of Cable Telecommunications Engineers (SCTE)
SCTE drives business results for service providers and vendors through technology innovation, standards development and industry-leading training and certification. In partnership with CableLabs® and NCTA, SCTE builds value for corporate and individual members by enabling accelerated delivery of products and services, superior workforce expertise and increased customer satisfaction. SCTE and its global brand, ISBE, annually produce SCTE•ISBE Cable-Tec Expo®, the largest cable telecommunications technology, educational and business development event in the Americas. More at www.scte.org.