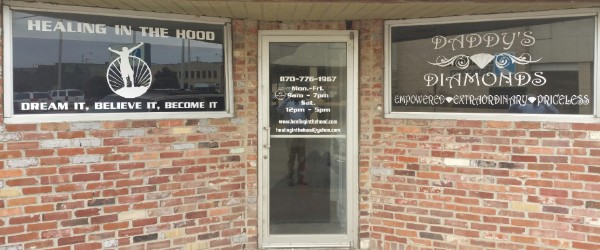 Ritter Communications presented the deed to its old office building at 121 South Second Street in Blytheville to Healing in the Hood founder and executive director Sandy "Bebe" Gillespie on Tuesday morning.
"As a company, we believe in investing in the communities we serve," said executive vice president Ritter Arnold. "Healing in the Hood has the support of many in Blytheville, including us, and we hope that by handing Bebe the keys to this building we're helping his organization achieve its mission."
The 10,000-square-foot facility includes a lobby, offices of various sizes, a break room, a conference room, and is just down the street from where Healing in the Hood holds sports programs at the old YMCA. Ritter officials said Healing in the Hood personnel would take immediate possession of the building, but no details were available regarding the donated value of the structure.
"We're proud to join the growing contingent of people supporting Healing in the Hood," said Margaret Holloway, vice president of public relations and community development. "This brick-and-mortar addition literally builds on an already successful organization with a proven record of changing lives through positive actions."
Healing in the Hood's mission is to provide proper education, aid in training and assist school leaders in guiding young men to paths of leadership at home and in the community, according to its website. It steers young males away from drugs and gangs through programs such as a basketball league, a boxing club, lawn care for the elderly, a youth empowerment initiative, and a letter-to-prisoners ministry.
About Ritter Communications:
Ritter Communications, founded in Marked Tree, Arkansas and headquartered in Jonesboro, began providing local phone service in 1906. Today, Ritter serves 57 communities and more than 45,000 customers in northeast and north central Arkansas and west Tennessee with advanced voice and data services typically found only in major metropolitan areas. Ritter invests heavily in the communities it serves by deploying proven, best in class infrastructure and technology while coupling it with a world class customer focused experience.
Residential consumer services include local and long distance phone service, cable television and high speed Internet. Business services include customized communications systems and services, including, broadband Internet services, Managed Voice, data center services, Ethernet connectivity, customized networking and hosted applications. For more information, visit rittercommunications.com or facebook.com/rittercommunications.