August 17, 2018
TUBETOWN TO COVER 11 AREA HIGH SCHOOL FOOTBALL GAMES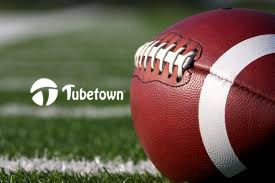 Football season is upon us, and when it comes to high school action, no one has you covered like Tubetown.
On Friday, Tubetown kicks off its 11-game 2018 schedule that features some of the biggest games in the area. Tubetown, a community partnership with Ritter Communications, will cover three games in West Tennessee and eight in Arkansas. This week, the team will carry the Munford-Covington contest from West Tennessee.
"We've put together a really exciting schedule that will take us to some of the best rivalries in our coverage area," Tubetown Producer Marcus Carlton said. "Our viewership continues to grow each year, and we're looking forward to once again bringing the action to thousands of high school football fans."
Tubetown's live streams are available at Facebook.com/TubetownOnline. Following the live streams, the games will air on Tubetown (channel 11 for Ritter Communications cable TV customers in West Tennessee and channel 21 in Northeast Arkansas) at 7 p.m. the following Saturday and Sunday.
"The live streams allow us to take the games to people who couldn't otherwise view them," Carlton said. "We've heard from parents who are stationed overseas and grandparents who live out of state who are able to watch their favorite athlete despite being hundreds or even thousands of miles away. We love having the ability to bring them the action."
Tubetown's Tennessee coverage continues on Aug. 24 when they'll be at Millington Central-Munford. On Oct. 26, they'll cover the Brighton-Munford contest.
The Arkansas high school season gets underway Aug. 31, and Tubetown will carry one of Mississippi County's biggest contests as they cover Osceola at Blytheville. Tubetown's Arkansas schedule includes teams from Poinsett, Mississippi, Craighead and White Counties. Osceola, Blytheville, Valley View, Jonesboro, Rivercrest, Searcy, Trumann, Nettleton, East Poinsett County and Marked Tree are all on the slate, and the final week has tabbed a "flex" game where Tubetown will pick the top available game.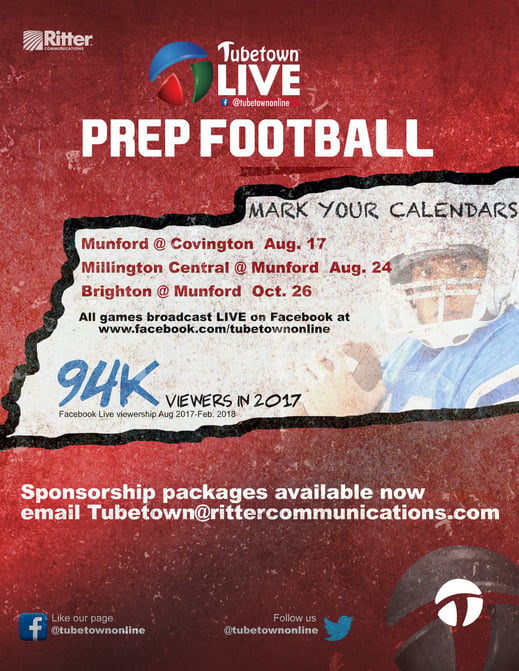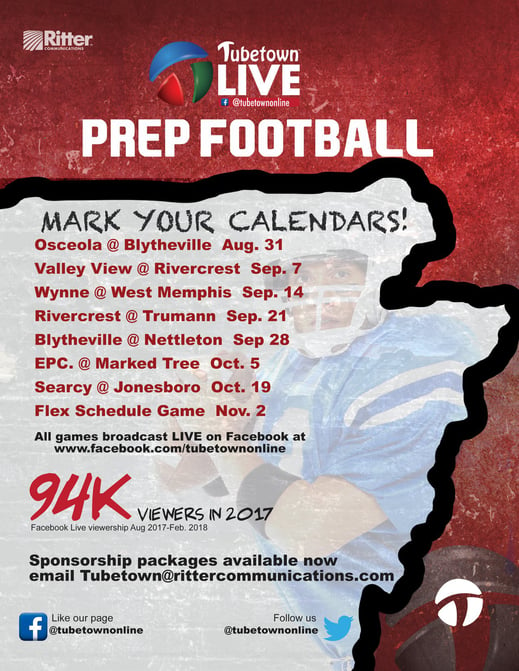 ###
About Tubetown:
Tubetown, a community partnership with Ritter Communications, airs live and pre-recorded high school sports, as well as local events, parades, charities and pageants. Tubetown was established in 2008 and reaches over 14,000 Ritter TV subscribers in Arkansas, Tennessee and Missouri. Tubetown airs on channel 11 in West Tennessee and channel 21 Northeast Arkansas/Missouri. Visit Tubetownonline.com on the web and receive programming updates via our Twitter account,@Tubetown. Like our Facebook page at facebook.com/tubetownonline.
About Ritter Communications:
Ritter Communications is a leader among local independent communications providers, offering business, residential and wholesale customers advanced internet, phone, video and hosted services. Ritter Communications invests heavily in the communities it serves by deploying a best-in-class network and a world-class customer experience. Ritter's commitment to providing state-of-the-art technology allows all customers, regardless of their location, to enjoy progressive services. Founded in 1906 and headquartered in Jonesboro, Arkansas, Ritter Communications is a fifth-generation, family-owned company that is committed to growing and evolving to meet the demands of today's ever-connected world. For more information, visit rittercommunications.com or facebook.com/rittercommunications.