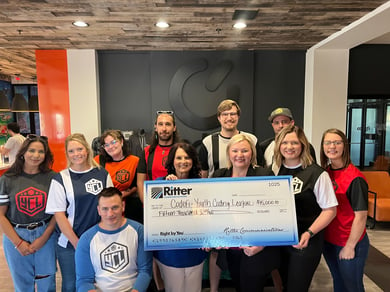 JONESBORO, Ark. (November 7, 2022) – Ritter Communications, the largest privately held telecommunications provider serving exclusively the Mid-South, celebrates the company's recently announced $5.5 million expansion project bringing its telecom service and advanced cloud solutions to businesses, manufacturers, healthcare and schools in Cape Girardeau, Missouri, with a $15,000 donation to locally-based Codefi. Ritter Communications contribution benefits the Youth Coding League, a program that introduces computer science and coding to area fifth through eighth grade students.
"We are grateful for Ritter Communications contribution to the Youth Coding League, our mission and students," said Codefi Co-Founder James Stapleton. "With this contribution, we can eliminate the skills gaps preventing more students in our rural communities from thriving in the digital economy."
Codefi partners with rural communities to help those communities participate in the digital economy. Codefi trains students and adults in coding, offering job placement assistance with local companies once their training is complete. Codefi is helping to attract tech companies through its work, bring new economic growth to these rural communities. Codefi is expanding its reach beyond Cape Girardeau to Pine Bluff and Little Rock where Ritter Communications also has a presence.
"With our Right by You pledge as our guide, we commit to serving each community we are part of and the people in it," said Ritter Communications CEO Alan Morse. "We are proud to support Codefi's work across many communities helping to prepare the next generation for the careers of the future."
Construction of the high-speed fiber expansion project began in April 2022. Customers started receiving services in late October.
Ritter Communications is a regional telecommunications provider, headquartered in Jonesboro, Arkansas, serving more than 113 communities in the region across four states with a full suite of innovative communications services. Learn more at RitterBusiness.com.
# # #
About Ritter Communications: Ritter Communications is the largest privately held telecommunications provider serving exclusively the Mid-South, offering world-class broadband fiber, telecom, video, cloud and data center services. The company has grown rapidly over the years, investing millions recently in technology infrastructure and is now serving 113 communities and more than 45,000 customers in Arkansas, Texas, Missouri and Tennessee. Headquartered in Jonesboro, Arkansas, Ritter Communications invests heavily in the communities it serves by deploying proven, best-in-class infrastructure and technology, while coupling it with a world-class customer-focused experience. For more information visit RitterCommunications.com.