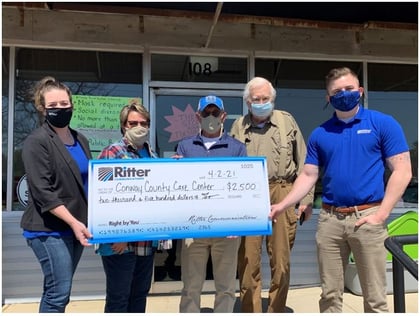 Representatives from the Conway County Care Center accept a $2,500 donation from Ritter Communications Marketing Coordinator Melissa Cole (far left) and Ritter Communications Sales Representative Oni Robertson (far right).
JONESBORO, Ark. – (April 6, 2021) – Ritter Communications, a leading regional broadband provider headquartered in Jonesboro, has announced it has made a $4 million investment to continue the company's efforts to bridge the digital divide in Arkansas, which includes its most recent expansion of services to Morrilton businesses. In addition to high-quality broadband connectivity, Ritter Communications brings a full suite of telecommunications services, including voice, custom cloud solutions, networking and television services. The Morrilton expansion project comes after a number of other recent rural expansions including Lonoke, Pine Bluff, Arkadelphia and Texarkana.
Ritter Communications is the first provider to offer XGS-PON service in Morrilton, which delivers access up to 10 gigabits per second of 100% fiber connectivity to business customers. A local customer support team assists users with all services, eliminating the need for third-party technical support. The company's premier service suite also provides custom cloud solutions, providing Morrilton businesses access to the new Ritter Communications Data Technology Center.
"We've seen dramatic changes in the last year in the way businesses utilize the internet, meaning true 100% fiber internet has become less of a luxury and more of an operational necessity," said Ritter Communications CEO Alan Morse. "We see the demand for high-quality broadband in Morrilton, with 30 businesses ready to connect, and we look forward to expanding our 100% fiber internet services to more in the Morrilton business community. Ritter Communications will start turning up zones in May, and we are eager to bring the Morrilton community our advanced business solutions and superior customer service."
Ritter Communications is contributing $2,500 to Conway County Care Center to commemorate the expansion of services in Morrilton. "Conway County Care Center thanks Ritter Communications for investing in the community of Morrilton," Conway County Care Center spokesperson Charles Spivey said. "The $2,500 donation will help us stock our food pantry downtown, providing meals for many Morrilton families."
Headquartered in Jonesboro, Arkansas, Ritter Communications serves 96 communities in the region across four states with a full suite of innovative communications services. For more information, visit RitterCommunications.com.
###
About Ritter Communications: Ritter Communications is the largest privately held telecommunications service provider in the Mid-South, offering world-class broadband fiber, telecom, video, cloud and data center services. The company has grown rapidly over the years, investing millions recently in technology infrastructure and is now serving 96 communities and more than 45,000 customers in Arkansas, Texas, Missouri and Tennessee. Headquartered in Jonesboro, Arkansas, Ritter Communications invests heavily in the communities it serves by deploying proven, best-in-class infrastructure and technology, while coupling it with a world-class customer-focused experience. For more information visit RitterCommunications.com
Media Coverage:
The Petit Jean Country Headlight - https://1228.newstogo.us/mobile/editionviewer/?Edition=8af19e06-9379-4b29-abcc-b76bac5a9562
AMP - https://armoneyandpolitics.com/tag/morrilton/
AR Democrat Gazette - https://www.arkansasonline.com/news/2021/apr/08/news-in-brief/
Broadband Tech Report - https://www.broadbandtechreport.com/fiber/article/14201203/ritter-communications-bring-100-fiber-internet-services-to-morrilton-ar
Talk Business & Politics - https://talkbusiness.net/2021/04/ritter-communications-continues-expansion-in-morrilton/
VIRTUALPBX - https://www.tmcnet.com/channels/virtual-pbx/articles/448570-ritter-communications-spends-4-million-continues-expansion.htm
Arkansas Business - https://www.arkansasbusiness.com/article/135315/ritter-rolls-out-fiber-to-morrilton-businesses
NWA Arkansas Democrat Gazette - https://www.nwaonline.com/news/2021/apr/08/news-in-brief/